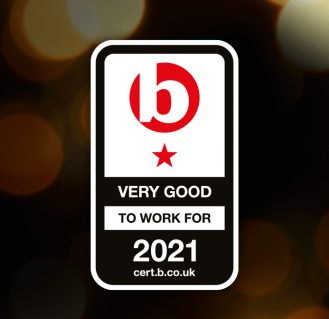 Delt Shared Services earns place on UK'S Top 20 Business Services list
In 2021, Delt Shared Services was awarded a 1 star 'very good' accreditation from the b-heard engagement survey which forms the list of Best Companies to Work For. And now, to add to the success, the organisation has been placed at 17th in the top 25 UK Business Services category for Q3 in 2023.
In the 2021 virtual event, hosted by the BBC's Dan Walker, the Best Companies lists for the year were unveiled and businesses across the country were recognised for their commitment to their employees and overall workplace engagement.
Delt conducted the survey in February 2021 and achieved a record 75% engagement rate, which far exceeded any previous survey participation rate, with an overall result of 661.2 out of 1000. This score merits a 'very good' business to work for and attributes a 1-star rating.
Giles Letheren, CEO said; 'I'm delighted that the work we have done on vision, values and culture has been reflected in a Best Companies accreditation and now a position on the top Business Services list. Our team have been truly exceptional over a challenging (Covid) year of Helping People do Amazing Things and being recognised for this, at our first try, shows that we take employee engagement seriously, even as the world of work has completely changed.'.
The b-heard rating system tracks companies on a scale of 0 to 1000. A score of 600 and above puts companies in their 'one to watch' category and from there a company can score between 1 and 3 stars which is considered the 'best-of-the-best'.
Jane White, Chief People and Culture Officer added; "We are so pleased that we rated highly for 'My Team' as team morale is fundamental to wellbeing, belonging and job confidence. To also be awarded 1 star really is the icing on the cake for us but more importantly it is the staff feedback that will give us the information we need to make Delt an even better place to work"
Delt's Best Companies profile can be viewed on the b-heard website. Additionally all those who ranked in the Top 20 Business Services category can be found here.