Innovation and Transformation
Unlock your business potential with Delt Shared Services' comprehensive digital transformation solutions. By seamlessly integrating strategy, enterprise architecture, digitalisation, innovation, development, and product management services, we empower our customers and partners to achieve the best possible outcomes. 

Our service is designed to address both the long-term strategic direction of your organisation and the immediate changes that can yield quick wins. Collaborating closely with our customers, we deliver a range of transformative solutions that encompass the following: 
Maximising Return on Investment: 
Leveraging innovation and existing services and data.

 

Identifying opportunities for product creation.

Generating and governing strategy delivery.
Value-Adding Enterprise Architecture: 
Designing enterprise architecture solutions that drive value.

 

Cultivating a digital culture within your organisation

.
Collaborative Service Definition: 
Developing blueprints and service definitions for reuse.

 

Building service requirements based on value, outcomes, and user experience.

 
Programme Partnership: 
Ensuring the successful delivery of the right programs at the right time.

 
Our Digital Transformation service consists of three key components: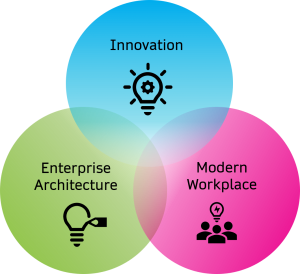 Innovation
Focuses on driving efficiency and fostering the creation of new products.

​
Architecture
Ensures the delivery of quality designs through Enterprise Architecture and Solutions

expertise.

 (EA and Solutions)​
Product Management
Manages the lifecycle of products, adoption, continuous service improvement (CSI), and

provides

insights for innovation and design initiatives,
We understand that digital transformation is a journey unique to each organisation. With our tailored solutions and collaborative approach, we help you navigate this journey, driving growth and success. 
Are you interested in unlocking the full potential of your business? Contact us today to explore how Delt Shared Services can propel your digital transformation forward.