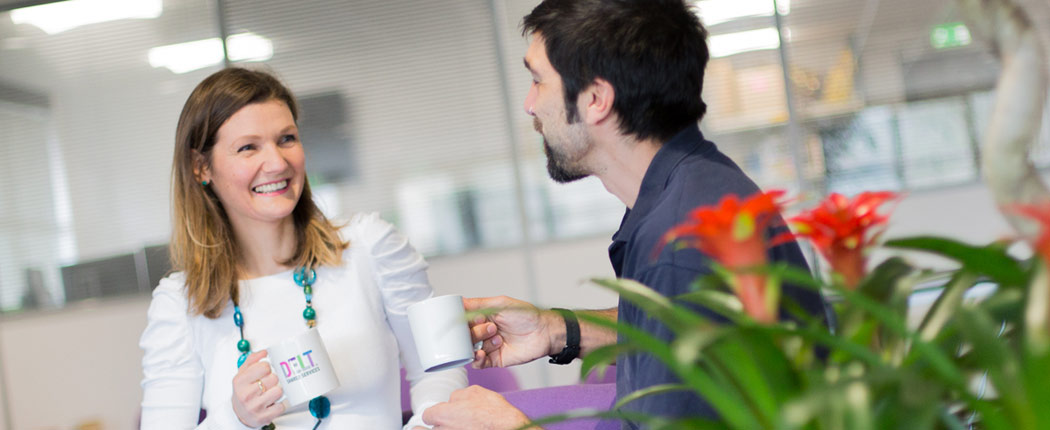 Current Vacancies
IT Security Specialist  (Full-Time 37 hours p.w, Permanent) /£25,000 – £35,000 p.a.
Delt is a brilliant contradiction. A dynamic and agile private sector company with a serious conscience, that's wholly owned by the public sector. It's somewhere you can do the right things for the right reasons while playing a real part in a growing business.
Our employee proposition is pretty great too, with an overall package that recognises the importance of life in work/life balance and gives you the opportunity to keep learning new things.
If you want to know more about the total package we offer, please see our future employee page here.
Do you want the experience of working in this sort of dynamic environment? Do you want to apply your skills to doing good and helping us grow?
At Delt, our people really do help others to do amazing things. We don't just talk about our mission and values – we live them. If you want to join a values-drive organisation that wants, it's people to feel and do good then we could be your next career move.
With an enviable benefits package, staff events programme and flexible working policy we aren't shy on 'perks'.
We're currently recruiting for a dynamic and skilled IT Security Specialist to join the Delt teams. You'll need to have a 'jump straight in' attitude and the desire to support the growth of the business.
Delt are recruiting an IT Security Specialist to support the delivery of an enhanced cyber security service across one of our Shareholders IT environments.
The role will undertake various duties, across a range of threat detection, vulnerability identification and response, risk management, and audit responses. In addition, the role will be involved with ensuring that these activities meet agreed Service Levels.
The successful candidate will be able to:
keep up to date with the latest security and technology developments
research/evaluate emerging cyber security threats and ways to manage them
assist with plan for disaster recovery and create contingency plans in the event of any security breaches
monitor for attacks, intrusions and unusual, unauthorised or illegal activity
test and evaluate security products
design new security systems or upgrade existing ones
use advanced analytic tools to determine emerging threat patterns and vulnerabilities
engage in simulated security breaches
identify potential weaknesses and implement measures, such as firewalls and encryption
investigate security alerts and provide incident response
monitor identity and access management, including monitoring for abuse of permissions by authorised system users
liaise with stakeholders in relation to cyber security issues and provide future recommendations
generate reports for both technical and non-technical staff and stakeholders
assist with internal and external audits relating to information security
monitor and respond to 'phishing' emails and 'pharming' activity
assist with the creation, maintenance and delivery of cyber security awareness training for colleagues
give advice and guidance to staff on issues such as spam and unwanted or malicious emails.
Demonstrate
strong IT skills and knowledge including hardware, software and networks
Meticulous attention to detail
The ability to use logic and reasoning to identify the strengths and weaknesses of IT systems
A forensic approach to cyber security challenges
A deep understanding of how hackers work and ability to keep up with the fast pace of change in the criminal cyber-underworld
The ability to seek out vulnerabilities in IT infrastructures
Knowledge of Information Security standards (Cyber Essentials Plus, ISO27000 series desirable).
Knowledge of relevant legislation affecting data protection, information security and computer-based crime affecting the UK.
A willingness to undertake appropriate and regular training as required.
A commitment to personal and professional development.
Experience working in a professional IT environment.
Experience in providing a customer focused IT service.
That they are a proficient user in a range of Microsoft packages.
Essential:
One or more of
Degree level education in Information Security or sufficiently related subject
Subject specific qualification, such as CompTIA Sec+, CompTIA CSA +, BCS CISMP, or equivalent
Equivalent level experience within an IT Security role
A full UK driving licence (or obtained within probationary period).
Desirable:
Experience of protecting IT infrastructure/s within the public and/or private sectors.
What do you get?
Being part of a highly technical and skilled team
Work in a flexible environment
Opportunities for working from home
Mobile devices provided
Varied training opportunities
In return
A competitive salary
25 days' annual leave plus Bank Holidays, plus ability to buy/sell holidays
Pension contribution, matching up to 10% of the salary
Training and Development
Subsidised events
Charity leave
Discounted shopping cards
Deadline for applications: 18th March 2022 however applications will be considered on a rolling basis, so please apply early.