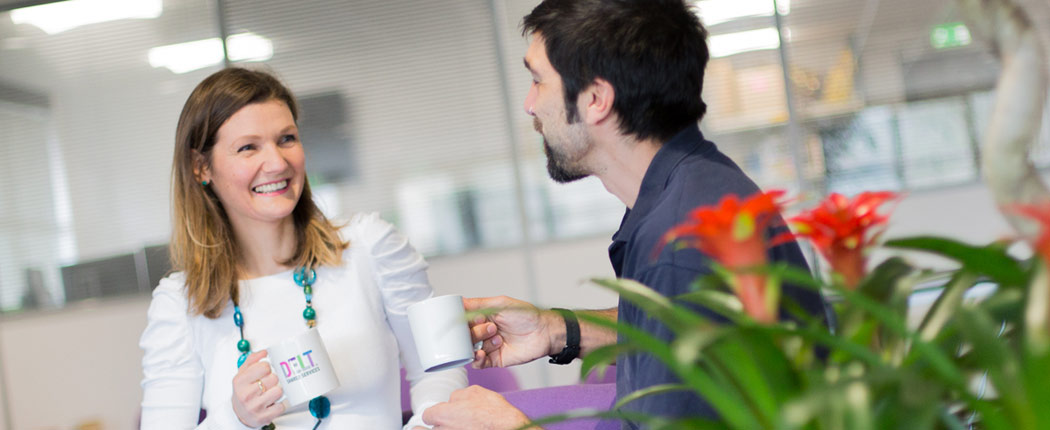 Current Vacancies
Senior Infrastructure Team Leader /Engineer (Full time, 37 hours per week, Permanent)/ £40,000 to £47,500 p.a.
This is a great opportunity to lead the Project Infrastructure Engineering team here at Delt Shared Services. As we experience continued growth, we have new and exciting challenges to solve both internally and across our customer base; projects which includes greenfield, scaling and transformation of services to meet ever growing challenges of public sector IT.
Who are we?
In short, Delt exists to help our partners and clients do amazing things. Sounds simple?
We are responsive and agile experienced techy people who have a passion for helping our public sector partners achieve their goals of helping people. Our teams, collectively, deliver significant financial benefits, greater resilience, faster innovations and nearly £12.5M of socio-economic gain (per annum) to the Southwest.
Whilst we are owned by the public sector, we operate like a dynamic and agile private limited company – and it works! Time and time again, we deliver on all fronts and very much in excess of our shareholders original expectations.
Want to know a bit more about us? Well, the boring bit is that we were founded in 2014 by our shareholders, Plymouth City Council and the NHS Devon Integrated Care Board. We originally, started out running and managing their IT services but that has since grown.
Your task:
We are looking for an Infrastructure Project Team Lead to support the Head of Infrastructure by spear-heading the Infrastructure Project Team. You will lead our Infrastructure Project Engineering and facilitate the coordination of network and platform/server engineers to fulfil a wide range of projects.
What will success look like?
Team leadership – Maintain a healthy balance of planned work that is achievable, delivered in a timely manner and aligned with department and business goals.
Technical leadership – Directly contribute to the delivery of planned work in the team while contributing to and aligning the team with the technical strategy.
People management – Own management, hiring, onboarding, development & retention of 4-8 Infrastructure Engineers.
What you'll be doing:
A role model for the Infrastructure team – Work with stakeholders and internal teams to understand project design, delivery, operational adoption needs and priorities.
Guiding technical direction – This is a hands-on role, 50% of your time will be spent technically contributing.  Align the Infrastructure team to the technical strategy in conjunction with office of CIO, promoting strong stable foundations to project delivery.
Share updates – Ensure that all stakeholders are informed of relevant work, risks, and issues, tailoring the message appropriately for the intended audience. Attend & contribute to project updates meetings.
Continually improve – Develop, track, and improve infrastructure delivery KPIs related to project delivery/implementation costs, and engineering productivity. Drive platform and infrastructure improvements through contributions to operational excellence meetings and team goal setting.
Coach & develop your team – Hold regular 1:1s with direct reports. Establish development plans for team members in line with individual and company needs. Coaching and mentoring team members to facilitate their technical development.
Our Technology stack:
– Microsoft Server, Azure, Active Directory, SQL, Oracle – Nutanix HCI
– Cisco, Mellanox, Meraki, Checkpoint, Fortinet, Sophos – Rubrik, SourceOne
– Avaya, Alcatel – SDWAN, AOVPN, IPSEC, BGP, etc.
clearly, we recognise to get an expert in all these areas is unreasonable but we are ideally looking for a candidate who is able to display platform/application expertise which is matched with a strong understanding of enterprise networking principles/techniques.
About you:
You have experience leading a team and hands-on experience in our relevant technologies.
You are very technically literate with demonstrable problem-solving skills.
You have high emotional intelligence and can build trust quickly with your team, peers and stakeholders.
You seek to understand as well as advocate ideas based on your experience and knowledge.
You effectively work with stakeholders outside of the Engineering team, communicating clearly with non-technical audiences.
You have experience in building and deploying infrastructure in high traffic, highly available cloud/datacentre infrastructure environments.
You enjoy measuring anything and everything, and driving insight into systems and service performance.
Why join Delt for this role?
This a tremendous opportunity for an experienced Senior Infrastructure Engineer who looking to make the transition to management – the role is well supported by peers and senior management. Equally, this role represents a fantastic opportunity to get struck into some great projects using a strong, stable toolset and make a remarkable impact on the public services in the Southwest within a forward thinking, innovative IT services company.
We're an equal opportunity employer and all applicants will be considered for employment without attention to ethnicity, religion, sexual orientation, gender identity, age, family or parental status, national origin, veteran, neurodiversity status or disability status.
The urgent nature of this appointment means we are unable to consider visa sponsorship at present.
Rewards:
Flexible and remote working (or the option to work from an office)
Parental leave for caring for sick children
Military spousal's leave for partners of serving personnel
Access to our 24/7 employee assistance programme for themselves and their partner
Vouchers and discounts across high street brands
Matched charity leave
25 days annual leave (plus bank holidays)
Option to purchase up to 10 additional leave days every year
Annual events including a Summer Barbeque, Christmas Party and Virtual team building
Surprise gifts to your very front door, from chocolates at Easter to cake on Delt's birthday.
Opportunities to develop your learning and skills through our dedicated training platform.
Deadline for applications: 24th March 2023, however applications will be considered on a rolling basis, so please apply early.
To apply for this vacancy please send a CV and Cover letter via email: Recruitment@deltservices.co.uk