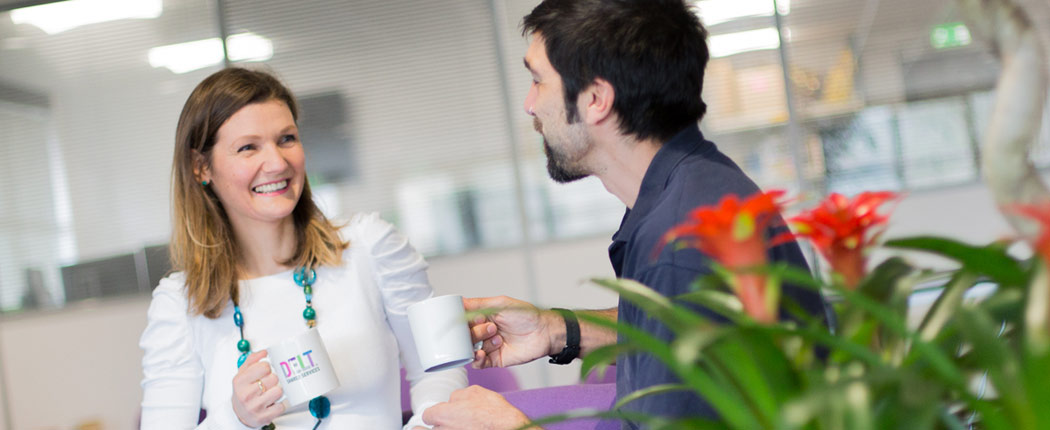 Current Vacancies
Office 365 Platform Owner (Full Time, 37 hours per week, Permanent) / £35,000 to £40,000 p.a. plus performance bonus
At Delt, our people really do help others to do amazing things. We don't just talk about our mission and values – we live them. If you want to join a values-drive organisation that wants, it's people to feel and do good then we could be your next career move.
We're currently recruiting for an experienced and skilled Microsoft Office 365 Platform Owner to join the Delt team. You'll need to have a strong work ethic, exceptional customer relationship management skills and the desire to support the growth of the business.
The Microsoft Office 365 Platform Owner will be accountable for defining and operating the services which Delt offer our customers based on the Office 365 platform.   As Platform owner you will be responsible for setting the vision, strategy, and design of Delt's Office 365 service; defining roadmaps and implementation plans to ensure our customers maximise the value which they get from the platform.
The Role
Provides specialist advice to existing and potential customers in relation to the Office 365 platform, its capabilities, and the approach to implementation in their environment.
Drives operational management of the platform in line with vendor and industry best practice.
Leads customer engagements to understand customer needs and priorities and develop plans for the deployment and consumption of the capabilities offered by the platform.
The Candidate:
Experience providing operational management, specialist advice and / or consultancy around the implementation of the Microsoft Office 365 platform.
Experience planning and delivering business discovery interviews, requirements workshops and solution demonstrations and reviews.
Bachelor's degree Computer Science or related field required (Demonstrable experience of operating at an equivalent technical, operational and leadership level over an extended period may be substituted in lieu of a bachelor's degree)
Though this is a hybrid role there is a requirement for you to attend the Plymouth Delt Office up to twice a week any travel to client/office sites can be claimed less normal home to work mileage.
Closing Date: Applications will be considered on a rolling basis, so please apply early.
Sadly we are not in a position to support individuals who either require visa sponsorship either now or in the future.  
To apply for this vacancy please click on the 'Apply now' button below, you are strongly encouraged to submit a cover letter with your application to show how you meet the role profile.  In exceptional circumstances please submit a CV and Cover Letter via e-mail: Recruitment@deltservices.co.uk